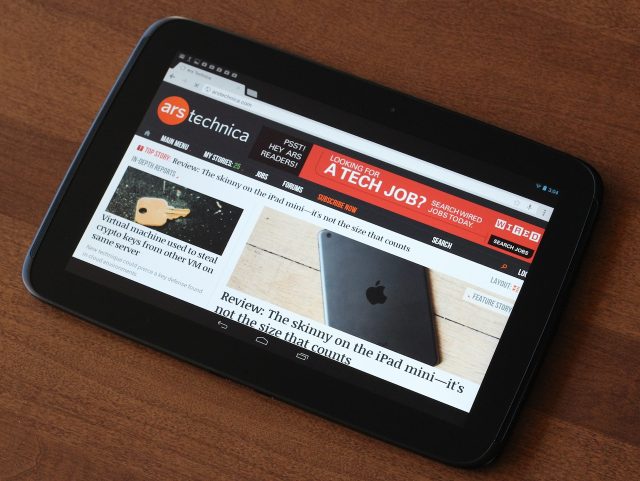 Now read: Android 4.3 Jelly Bean officially announced
If you saw the
new Nexus 7
yesterday and said, "nah, not big enough," Google's Sundar Pichai just dropped a news tidbit that may be of interest to you. The Chrome and Android boss apparently told the
Wall Street Journal
's Amir Efrati that a new Nexus 10 tablet is coming "in the near future," though Pichai didn't give Efrati much more detail than that.
Perhaps this
news
is not surprising—the
current Nexus 10
was introduced in November of last year, and it's pretty common for Nexuses and other phones and tablets to be replaced by newer models on or near their first birthdays. Whether the tablet will be joined by a successor to the Nexus 4 or a version of
Android newer than 4.3
is anybody's guess. Google has always used new Nexus hardware as an excuse to showcase new Android versions, but the company's approach to Android updates is clearly in a state of flux right now.
The new tablet will still apparently be made by
Samsung
, which Google partnered with to make the current Nexus 10. Google also stuck with the same company (Asus) to produce both versions of the Nexus 7, and it has partnered with Samsung previously on both the Nexus S and the Galaxy Nexus smartphones.
For starters, the processor should be getting a substantial upgrade. The original Nexus 10 runs a dual-core Exynos 5250 clocked at 1.7GHz. It's an ARM Cortex-A15 chip, and still one of the top 5 chips on Android benchmarks. Samsung's newer Exynos 54510 Octa, however, performs about 10% better — thanks to the two additional A15 cores it packs.
Certain versions of the Galaxy S4 run a 5410. The Nexus 10, however, might ship
with an Exynos 5420
. Pichai says the new Nexus 10 is coming soon, and Samsung says that it will start mass production of the 5420 in August. Why not ship it in a high-profile Nexus device right off the bat?
Like the 5410, it's based on ARM's big.LITTLE design, which means it crams in four A15 and A7 cores. The A7s kick in when maximum horsepower isn't required, and should help extend the new Nexus 10′s battery life well beyond the original's roughly 7.5 hours and bring it more in line with the iPad.
Clock speeds may be bumped slightly, from 1.7GHz to 1.8GHz on the A15 cores and 1.2GHz to 1.3GHz on the A7. The Exynos 5420 may also be able to utilize all 8 cores at once, which should yield impressive results.
The new chip will also include an improved GPU, which should have a much easier time pushing visuals to the Nexus 10′s display. The
three
Mali-T604 cores had some trouble manipulating those 4 million pixels, but it shouldn't pose a problem for the
six
Mali-T628 GPU cores inside the Exynos 5420.
Other specs may not change much. 2GB of RAM should still be plenty for a high-end Android tablet, but internal storage could use a bump. 16GB and 32GB isn't a ton of space anymore, especially when you're talking about a device that's perfectly suited to take advantage of Android's multiple user profile abilities. While it's hard to imagine Google — who wants you storing everything in the cloud and streaming it to your devices — countering Apple with a 128GB model, 64GB is a possibility.
Like the 2013 Nexus 7, the new Nexus 10 will be thinner ans lighter than the current model. But there's also one thing you definitely
shouldn't
expect. Don't count on the new Nexus 10 to ship with a micro SD expansion slot. Some rumors from earlier this year claimed that Samsung was going to sneak one in, but Google has never been keen on Nexus devices packing micro SD. The new Nexus 7 doesn't have one, so the new Nexus 10 won't either.
Also Read: Lockheed Martin Purchases Quantum Computer Tech